Tori Hope Petersen: A Beacon of Resilience, Advocacy, and Hope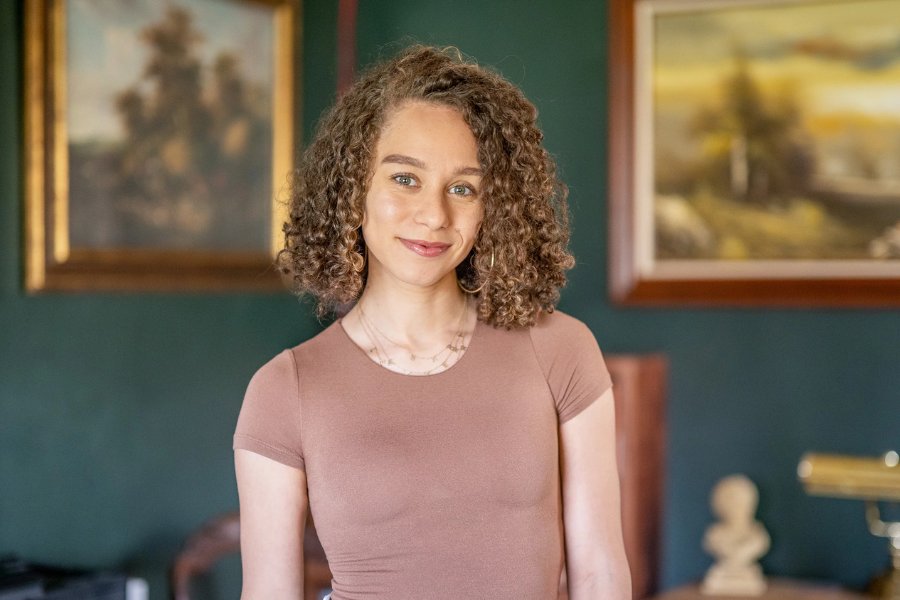 Proponents of abortion passionately defend their position, especially in cases where pregnancy results from a violation. They debate whether a woman should be forced to carry her offender's child for nine months or have the choice to place the child in the care of someone else. If the child should suffer the repercussions of their parent's misconduct is the main issue at stake in this argument. Contrarily, pro-lifers often put the child's life first, especially in situations involving sexual assault Tori Hope Petersen's story offers valuable insights into this contentious issue.
Tori's life story began with a difficult start. She entered the foster care system at the young age of three. However, her narrative took an even more profound and extraordinary turn at the age of nine when her biological mother revealed the unsettling truth that her conception resulted from a violation. Instead of keeping this painful truth a secret, Petersen's biological mother encouraged her to share her story openly, with the hope that it would inspire other women who had faced similar challenges.
Tori's upbringing was characterized by chaos and instability. Her mother's struggles led her to move through a dozen different foster homes. Tori experienced both rewarding and difficult things in each of these homes, but they all worked together to make her the extraordinary person she is today. Petersen found solace in her Christian religion and became a fierce opponent of abortion, especially in cases of sexual assault, as well as a vocal supporter of kids in the foster care system.
The life story of Tori Petersen is an example of overcoming adversity with tenacity. Her story stands as a beacon of hope for the young individuals within the foster care system and offers a unique perspective on the abortion debate, emphasizing the potential for beauty and strength to emerge from even the most difficult circumstances.
Tori Hope Petersen Biography
In the world of foster care, Tori Hope Petersen shines as a true survivor, a living testament to unbreakable resilience, and a source of inspiration for those who have journeyed through similar challenges. Her life's path has propelled her to remarkable heights, where she now stands as a nationally acclaimed speaker, a distinguished writer, and a radiant symbol of hope for those enduring the difficulties of foster care.
Tori accomplished something very exceptional before turning 25 years old—she was named Mrs. Universe. This honour is a monument to her unflinching courage, unshakeable resolve, and capacity to overcome life's unpredictabilities ups and downs. The life of Tori Hope Petersen serves as a potent reminder of the enormous potential that everyone of us possesses, despite the challenges that may lie ahead.
Tori Hope Petersen Age and Husband
!
In 1994, Tori Hope Petersen's life journey began, marked by an unrelenting series of challenges. Her entry into the world was not a moment of joy but a result of a traumatic event – her mother had been a victim of a terrible crime, rape. With her biological mother unable to provide care, Tori, at the tender age of three, was placed into the complexities of the foster care system. Her early years were a tumultuous odyssey as she moved through over ten different foster homes, none of which could truly become her sanctuary.
However, amid this chaotic uncertainty, a glimmer of hope emerged. In her final foster home, Tori finally experienced a sense of belonging that had eluded her for so long. A caring foster mother not only offered her shelter but also the warmth of a genuine family. They attended church together, cheered for Tori at her sports events, and supported her education at a Christian college.
Tori's life took an unexpected turn during her time at a very conservative Christian college when she met Jacob Petersen. Even though it had its own set of difficulties, love blossomed. Before they could legally be married, the couple found themselves on the verge of becoming parents. This situation faced sharp criticism from the orthodox Christian community they were connected to. Nevertheless, undeterred by this harsh reception, the couple decided to face this difficult situation together.
Tori and Jacob chose to take responsibility for their actions. They openly acknowledged their situation and, in 2018, took the significant step of getting married. Their unwavering commitment to each other led to the arrival of another child and the loving addition of a young son, expanding their family to include three children.
Tori Hope Petersen Height and Weight
Tori Hope Petersen's height in 2023 is currently under review by AllFamous.org. To get the most precise and current details about Tori Hope Petersen's height, I suggest staying tuned to their platform. They're actively working to offer the latest updates on this matter, and they should have the most recent information about Tori's height.
Tori Hope Petersen Education and Career
Tori's journey sent her to Hillsdale Christian College, where she studied psychology and Christian studies. During her undergraduate years, she was an engaged and committed student, but her dedication to making a difference went far beyond the classroom.
In 2016, Tori discovered her true calling as an advocate and Policy Advisor for the Congressional Coalition of Adoption Institute. Her work took her to the legislative staff of the Office of US House Majority Whip Steve Scalise, where she participated in crucial meetings with legislative staff, contributing to the legislative process.
Upon graduating, Tori joined Brace Global Inc, taking on the role of Leadership Academy Developer. In this capacity, she played a pivotal role in creating mentorship programs for young women at risk of human trafficking or those who had been victims of this heinous crime.
The year 2020 marked a significant turning point in Tori's life when she founded the Beloved Initiative. This initiative was dedicated to providing foster youths with access to opportunities and reshaping their life narratives. In the same year, she authored her memoir, "Fostered," which resonated with many and quickly became a best-seller upon its 2022 publication.
In 2021, Hillsdale College welcomed Tori back, where she took on the role of Executive Assistant for Special Recruitment. Her responsibilities included recruiting and assisting underserved students in their journey to the college. While in this position, Tori also established the "Fostering the Good Scholarship" to aid financially challenged underserved students.
Throughout her journey, from her college years through to the present, Tori embraced public speaking. She graced the stages of numerous conferences and churches, collaborating with child welfare organizations to address issues related to foster care and improve the lives of foster care survivors. Tori Petersen emerged as an influential figure advocating for improved livelihoods for those who've experienced foster care.
Her personal experience as a survivor of a situation that others might consider resolving through abortion has shaped her strong stance against abortion. She believes that her life, born out of a traumatic event, stands as a testament to the potential benefits of the foster care system. Her remarkable success effectively addresses many of the challenging questions raised by those who support pro-choice.
Tori shares her journey and her message with the world through her Instagram, and she has been a sought-after interviewee, appearing in publications like Essence, Christian Post, and Life Today TV. In the ongoing heated debate about abortion in the country, Tori's life serves as a powerful example, offering answers to some of the most challenging questions. Her resilience and accomplishments, despite her challenging origins, continue to inspire and provide hope to countless individuals.
BEFORE FAME
Tori's early years were marked by unimaginable hardships. She endured mistreatment and the lingering effects of PTSD, all while moving through an astonishing total of 12 different foster homes. It was a tumultuous start to her life, a challenge that might have broken the spirit of many.
However, in the midst of this chaos, Tori discovered a lifeline during her high school years: track and field. Her natural talent and unwavering determination led her to an incredible achievement – she became a five-time state champion. It was on the track that she found a deep sense of purpose and resilience, qualities that would profoundly shape her future.
Arguably, the most pivotal moment in Tori's life occurred when her track and field coach stepped in. He didn't just see an athlete; he recognized a young woman longing for a stable, loving home. This deed of kindness served as the impetus that led Tori to commit her life to her faith and stoke her passion for changing the foster care system.
The persevering power of the human spirit is demonstrated by Tori's path from a difficult upbringing to track and field stardom to passionate supporter of changing the foster care system. Her experience serves as a source of motivation and a potent reminder that victory and change are still achievable in the face of overwhelming hardship.
Tori Hope Petersen Income & Net worth
Tori Hope Petersen primarily earns her income through her influential work as a non-fiction author. Her books have played a significant role in building her reputation and achieving success. As for her current net worth in 2023, the most recent information is actively being updated by allfamous.org. For the latest and most accurate details on Tori Hope Petersen's net worth, it's advisable to follow their platform to access the most current financial information about this remarkable individual.
Relationship
In 2018, Tori Hope Petersen and her husband, Jacob, celebrated their wedding, marking the beginning of an inspirational journey. Together, they started the Beloved Initiative, a nonprofit dedicated to giving young people in foster care the assistance and opportunity they need, and they set out on a remarkable quest. Their shared dedication to this admirable goal has had a long-lasting effect on many people's lives.
In the fabric of their shared journey, Tori and Jacob aren't just fellow travelers on their mission; they are also loving parents. They are raising two young biological children alongside an adolescent adopted son and, incredibly, Tori's own biological sibling. Their family unit stands as a testament to the power of love, compassion, and an unwavering determination to bring about positive change in the lives of others.
TRIVIA
In the realm of literary achievements, Tori reached a significant milestone in 2022 with her book "Fostered." It received an honorable mention as a Book of the Year from the esteemed World News Group. This recognition is a resounding testament to the compelling narrative and the lasting impact it has had on its readers.
Through her Instagram profile, @torihopepetersen, Tori shares not only a collection of motivational quotes but also provides glimpses into the intricately woven fabric of her beautiful family. With an impressive following of 100,000 enthusiasts, Tori's digital platform serves as a source of inspiration and positivity for countless individuals. It's a space where she continues the important work of influencing the lives of those who resonate with her story and her journey of resilience and transformation.
FAQ
1. Who is Tori Hope Petersen?
Tori Hope Petersen is a remarkable individual who emerged from the foster care system to become a national advocate, author, and public speaker. She is known for her resilience and dedication to improving the lives of those in the foster care community.
2. What was Tori's early life like?
Tori entered the foster care system at the age of three due to her biological mother's inability to provide care. She experienced over ten different foster homes, which contributed to her tumultuous upbringing.
3. How did Tori meet her husband, Jacob Petersen?
Tori met Jacob during her college years at an orthodox Christian college. Their love story began there, and they later married in 2018.
4. How many children does Tori have, and how did her family expand?
Tori and Jacob have three children, including an adoptive son and Tori's own biological sibling. Their family reflects their commitment to providing love and support to foster care children.
5. Where did Tori study, and what was her career path?
Tori studied Christian Studies and Psychology at Hillsdale Christian College. She pursued a career in advocacy, working with organizations focused on adoption and foster care.
6. What is the Beloved Initiative, and when was it founded?
The Beloved Initiative, founded by Tori in 2020, is a nonprofit organization dedicated to providing support and opportunities for foster youth, aiming to reshape their life narratives.
7. What is Tori's stance on the abortion debate?
Tori strongly opposes abortion, even in cases of sexual assault. She believes her life, born from a traumatic event, serves as a testament to the potential benefits of the foster care system.
8. What accolades has Tori received for her book "Fostered"?
Tori's book "Fostered" received an honorable mention as a Book of the Year from the World News Group in 2022, recognizing its profound narrative and impact.
9. How can I follow Tori Hope Petersen on social media?
You can follow Tori on Instagram at @torihopepetersen, where she shares motivational content and glimpses into her family life.
10. What is Tori's impact on the foster care and adoption community?
Tori Petersen has become an influential figure in advocating for improved lives for foster care survivors. Her personal story and work have inspired many and shed light on the challenges and potential of the foster care system.
Summary:
Tori Hope Petersen's life journey is a striking example of resilience and activism. It begins with a challenging childhood in the foster care system and leads to her emergence as a nationally recognized advocate and author. In this article, we delve into her extraordinary story, her stance on abortion, and her inspirational contributions to the foster care community.