The Cosmic Fusion of Style and Sustainability: Broken Planet Streetwear Clothing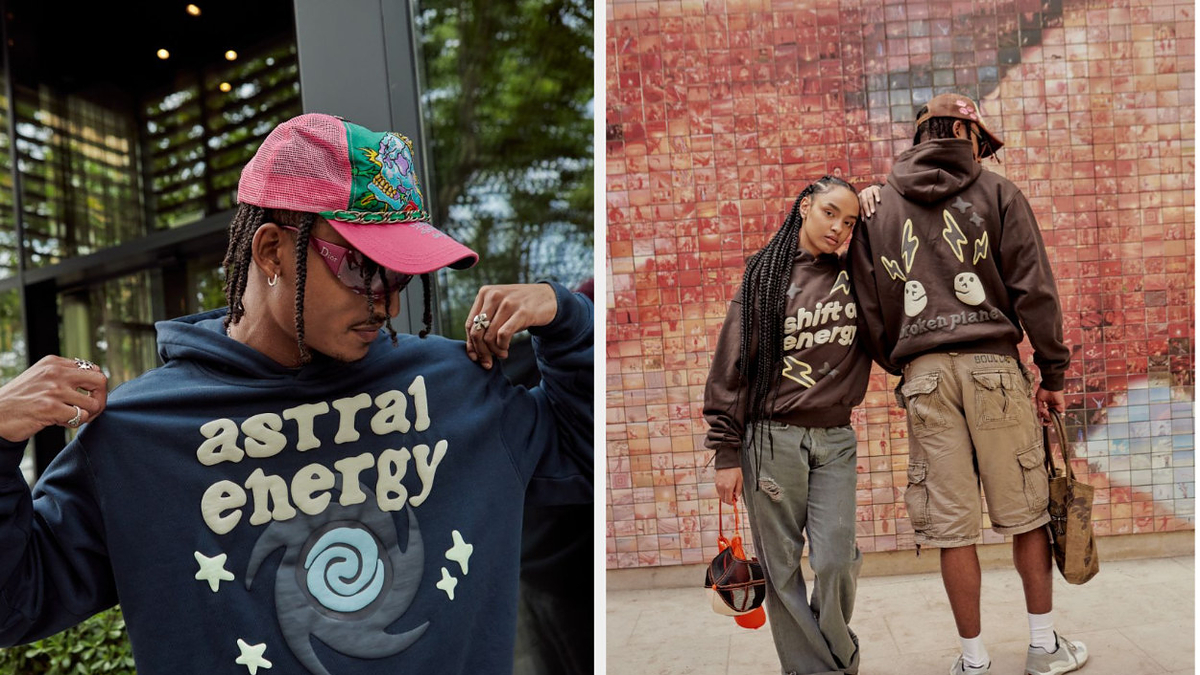 In a world where fashion trends are ever-evolving, one brand dares to stand out by combining streetwear with sustainability. Broken Planet Market, founded by Indrè Narbutaitè and Lukas Vilkas, is on a mission to redefine the fashion industry. With their unique blend of urban streetwear and eco-friendly practices, this brand is making waves in the fashion world.
In this article, we'll dive into the fascinating story of Broken Planet, explore their commitment to sustainability, and showcase some of their standout clothing pieces. So, let's embark on a journey to the Broken Planet, where fashion meets the cosmos.
The Genesis of Broken Planet Market
Broken planet, a brand that is rewriting the rules of fashion, began as a passion project by two visionary individuals, Indrè Narbutaitè and Lukas Vilkas. The story of Broken Planet's inception is nothing short of a whirlwind. In a matter of minutes, their first clothing drop sold out, thanks to a viral video that took social media by storm a week before the launch.
Lukas and Indrè, the masterminds behind the brand, are not your typical fashion enthusiasts. They have a deep-rooted disdain for fast fashion trends and a profound commitment to sustainability. As Lukas puts it, "We hate trends – that's a fact. As people that don't like fast fashion, we can say that confidently." Their journey began as a rebellion against the fashion industry's rapid turnover and unsustainable practices.
Embracing Sustainability in Urban Fashion
Broken Planet Market has an unwavering commitment to environmental responsibility. Their mission is to provide sustainable streetwear that combines style and conscience. But what sets them apart is their unique approach to sustainability. Each garment undergoes a slow shipping process to minimize the brand's carbon footprint. Broken Planet understands the importance of preserving our planet for future generations and incorporates this philosophy into every step of their production.
A Unique London Pop-Up
To celebrate their unique fusion of style and sustainability, Broken Planet Market is preparing to take the UK streetwear market by storm. In collaboration with Brand and Scratch Collective, they are organizing an immersive event in Shoreditch. This London pop-up event will feature limited offerings for friends and family, as well as the launch of Broken Planet's latest collection, 'Cosmic Speed.' Attendees will also have the opportunity to enjoy refreshments provided by Floozie Cookies, Can O Water, and Karma Drinks.
While the exact details of the event are shrouded in mystery, one thing is certain: the 'Cosmic Speed' pop-up promises to be a spectacular showcase of Broken Planet's unique clothing collection, featuring hoodies, shirts, tracksuits, and more.
The Hoodie That Makes a Statement
One of Broken Planet's standout pieces is their Hoodie. This high-quality, comfortable, and durable garment is designed to make a statement. The front of the hoodie features a distinctive broken planet graphic that catches the eye with its details and vibrant colors. Whether you're a science fiction enthusiast or simply appreciate artistic designs, this hoodie will align with your style.
Beyond its aesthetic appeal, the Broken Planet Hoodie offers comfort in all seasons. Its soft fabric will keep you warm and cozy on chilly days or cool evenings. The hood adds an extra layer of protection against harsh weather conditions, ensuring you stay warm and dry.
The T-Shirt with a Message
The Broken Planet Market T-Shirt is more than just clothing; it's a representation of sustainability and self-expression. Available in various colors and styles, this t-shirt allows individuals to showcase their personal style and values. What sets this t-shirt apart is its use of sustainable and environmentally friendly materials, making it an eco-conscious fashion choice.
This t-shirt isn't just about fashion; it's about making a statement on protecting our environment. By wearing it, you're not only expressing your style but also sparking conversations and raising awareness about sustainable fashion practices.
Tracksuits for the Style-Forward
Tracksuits have long been a symbol of comfort and style, and Broken Planet takes this to a new level with their collection. These tracksuits are designed to make a fashion statement while offering exceptional comfort and durability. Made with precision and high-quality materials, they are built to last and suitable for both casual outings and intense workouts.
What sets the Broken Planet tracksuits apart are their bold color combinations and high-end craftsmanship. The stitching and overall design reflect the brand's passion for individuality, ensuring that you stand out in the crowd.
Sweatpants: Stylish and Sustainable
Sweatpants have evolved beyond loungewear; they are now a fashion statement. Broken Planet Market understands the modern consumer's demand for sustainable and high-quality options, and they deliver precisely that. Their sweatpants are edgy and contemporary, featuring bold graphics and abstract patterns inspired by the broken planet concept.
Whether you prefer minimalist or vibrant styles, these sweatpants offer a variety of looks. They are a testament to the brand's commitment to combining style and sustainability in every piece of clothing they create.
Shorts for Every Occasion
In warm weather, shorts become a staple in our wardrobes. Broken Planet Market offers a variety of styles, lengths, and materials to cater to different preferences. These shorts are perfect for casual or semi-casual occasions and are made from denim fabric for a rugged and versatile look.
Pair these shorts with t-shirts, tank tops, or blouses, and you're ready for whatever the day brings. Whether you're headed to the beach, a picnic, or a casual gathering, Broken Planet shorts have got you covered.
Worn by Starz: Celebrity Endorsements
The popularity of Broken Planet Market has skyrocketed, and it's not just because of their unique fashion. The brand has received significant endorsements from various celebrities, further elevating its appeal. Renowned figures from different walks of life have been spotted wearing Broken Planet's distinctive clothing, particularly their hoodies and tracksuits.
Nafe Small, a popular artist, has sported the Broken Planet tracksuit, showcasing the brand's innovative design and reflecting his discerning taste. Additionally, Digga D has been seen wearing the Broken Planet hoodie with the happiness print, capturing the brand's cosmic inspiration and his vibrant personality.
Conclusion
Broken Planet Market is not just another fashion brand; it's a movement that seeks to change the way we perceive and consume fashion. With their unwavering commitment to sustainability and their unique blend of urban streetwear, Broken Planet has carved a niche for itself in the fashion world. As we explore their story, commitment to sustainability, and their standout clothing pieces, it's clear that Broken Planet is here to stay.
In a world of ever-changing fashion trends, Broken Planet Market offers a breath of fresh air – a cosmic fusion of style and sustainability that's hard to ignore. Whether you're drawn to their eye-catching hoodies, eco-conscious t-shirts, or stylish tracksuits, Broken Planet has something for everyone. This brand is more than just clothing; it's a statement of values and a commitment to a better, more sustainable future in the fashion industry.